PULASKI COUNTY, Ark. (KATV) — This week mark one year since school districts across Arkansas had to temporarily switch to virtual learning because of COVID-19.
According to Pulaski County Special School District spokesperson Jessica Duff, the last time they were able to meet at the administration building for a large gathering was March 13, 2020.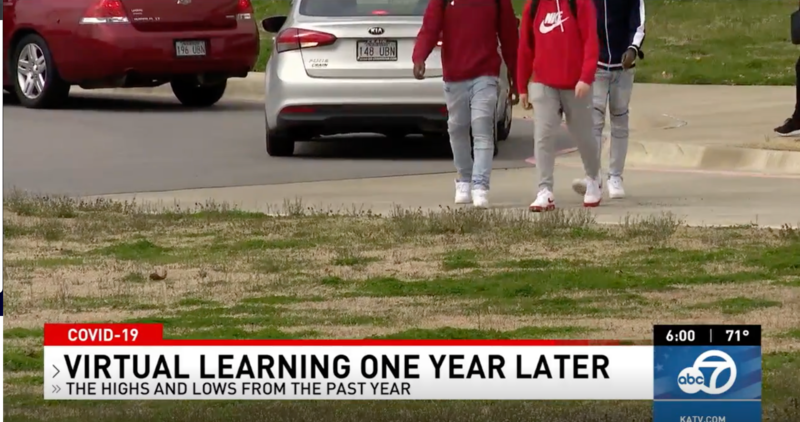 "It's been definitely a roller coaster-type process, but one that I think our administrators, our educators and even our students have really dealt with and far exceeded our expectations in doing so," Duff said.

Duff said that throughout the pandemic they've had some good moments with students and teachers adjusting to the transition of virtual learning and returning back to class. She also said they've also faced challenges in the past year. Duff said one of the biggest challenges was how they were going to plan for the 2020-2021 school year.
"I think the planning part was the most arduous of it all because there were so many unknowns over the summer," Duff said. "We had no idea what was going to happen when we put any group of people in a classroom, no matter what our precautions would be."
Duff said another challenge has been not knowing the long-term educational impact because of COVID-19. She said many of the students who are failing in class are virtual-only students.
"I know at each level they've been reporting those who are either on the borderline or are failing in certain classes," Duff said. "Our learning services department has implemented an after-school recovery program. We have teachers, principals across the district who are doing free tutoring."
According to Duff, in the first year of the pandemic, multiple schools had to pivot to virtual-only learning due to high numbers of students and teachers who needed to be quarantined.
Miosha Scarver is a stay-at-home mom with two sons who attend an elementary school in the Pulaski County Special School District. She said the transition for her two sons going to virtual-only learning wasn't too difficult. But because of the pandemic, her youngest son hasn't had the full experience of kindergarten.
"That was a big deal for me and it's almost like we're set back, because now with first grade, we're going to have to figure out those things we should've learned like walking to class by yourself or going to the lunchroom," she said. "That's not something that he's experienced."
According to district officials, parents have to choose either traditional or virtual-only learning for the next school year.
Officials from the Little Rock and North Little Rock school districts say they are currently working on a plan for the next school year.