MAUMELLE, Ark. (KATV) — In order to prevent the spread of COVID-19, the sanitation staff in the Pulaski County Special School District is taking extra precautions to clean and sanitize their schools.
Deep cleaning measures that were once done weekly in the district are now taking place every other day. Custodial and grounds supervisor, Karen Lemmer, said cleaning the schools is now an all hands on deck event.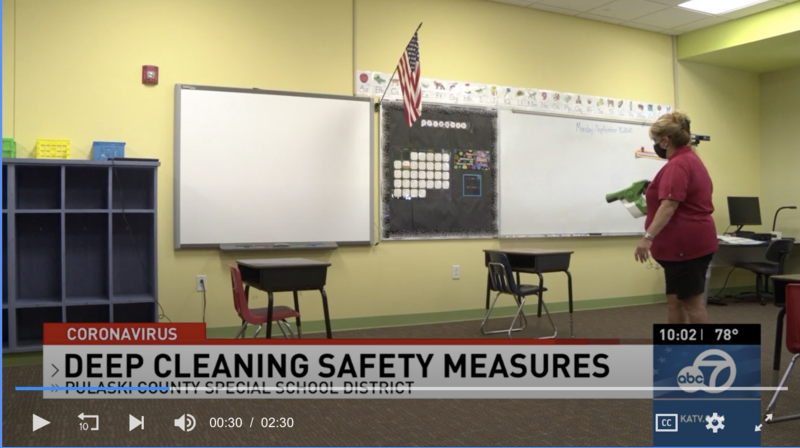 "We have spray bottles filled for all the classrooms for the teachers, they also have a roll of paper towels that they use to wipe student desks off," Lemmer said, "We have our lunchroom monitors that are able to help, we have security guards that are able to help, so that's, that's been a lot of extra help that we really appreciate."
Classrooms, restrooms, cafeterias and gyms are all cleaned in between each use. Extra attention is given to high traffic areas, like doorknobs and light switches, and evening custodians come in nightly once students and staff clear out for the day.
Every Wednesday, elementary students are released at 11:30 a.m., and secondary students are released at 1 p.m. so that the custodial staff can clean the schools from top to bottom. They take that time to dust, wipe windows, and scrub floors, walls and restrooms.
"That gives us more time to clean the classrooms restrooms and bigger areas during the day, where they have time to spray the rooms at night with our electrostatic machines," Lemmer said.
The district uses hospital-grade cleaning supplies, including Spic and Span Disinfecting All-Purpose Spray, Comet Disinfecting-Sanitizing Bathroom Cleaner, Bioesque Botanical Disinfectant Solution, and Clorox Total 360 Disinfectant Cleaner. Each is included on the EPA List N, disinfectants for use against the coronavirus.
What takes their disinfecting to the next level, according to Lemmer, is the use of their electrostatic spraying machines. The district has several Victory Cordless Handheld Electrostatic Sprayers, as well as the Clorox Total 360 System. These machines create an electrostatic field, which helps the disinfectant stick to even hard to reach areas.
"We really appreciate having these machines in our school district, they're a lifesaver, and they've been a real big help as far as time-wise cleaning and making sure everything is disinfected," Lemmer said.